Electrical Data
Capacitance range:
16 µF to 260 µF
Rated voltages:
500VDC, 700VDC, 900VDC, 1100VDC, 1300VDC
Capacitance tolerances:
±20%, ±10% (±5% available subject to special enquiry)
Operating temperature range:
-40°C to +85°C
Insulation resistance
at +20°C:
>
5000 sec (MΩ x µF)
Measuring voltage: 100V/1 min.
Dielectric loss factor
tanδ
0
: 2 x 10
-4
Test voltage:
1.5 U
r
, 2 sec
Dielectric absorption:
0.05%
Reliability:
Operational life > 100000 hours. Failure rate < 50 fit (hot spot
<
70°C)
Mounting Recommendation
Excessive mechanical strain, e.g. pressure or shock onto the capacitor body, is to be avoided during mounting and usage of the capacitors.
Packing
Transportation-safe packing in cardboard boxes.
The capacitors are non-polarized. The centre termination is designed as one pole whereas the four outer terminations form the other pole.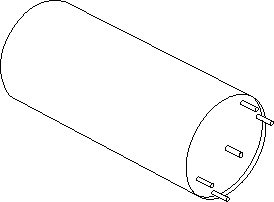 General Data