SMD-PET
Recommendation for Processing and Application of SMD Capacitors
Layout Form
The components can generally be positioned on the carrier material as desired. In order to prevent soldering shadows or ensure regular temperature distribution, extreme concentration of the components should be avoided. In practice, it has proven best to keep a minimum distance of the soldering surfaces between two WIMA SMDs of twice the height of the components.
As a basic principle for wave soldering, alignment of the soldering surfaces in accordance with the transport direction of the printed circuit board through the soldering wave is recommended.


Solder Pad Recommendation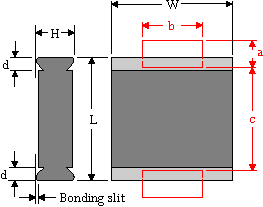 Size code
L ±0.3
W ±0.3
d

a

min.

b

min.

c

max.
1812
2220
2824
4030
5040
6054
4.8
5.7
7.2
10.2
12.7
15.3
3.3
5.1
6.1
7.6
10.2
13.7
0.5
0.5
0.5
0.5
0.7
0.7

1.2




1.2




1.2




2.5




2.5




2.5

3.5




4




4




6




6




6

3.5




4.5




6.5




9




11.5




14
Dims. in mm.
Processing
The processing of SMD components
- assembling
- soldering
- electrical final inspection / calibrating
must be regarded as a complete process. The soldering of the printed circuit board, for example, can constitute considerable stress on all the electronic components. The manufacturer's instructions on the processing of the components are mandatory.
Soldering process
Temperature/time graph for the permissible processing temperature of the WIMA SMD film capacitors for typical convection soldering processes.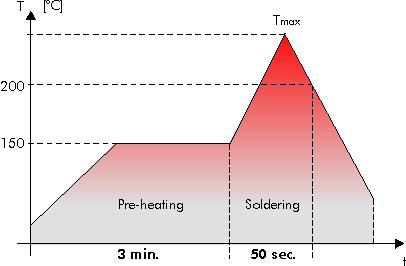 SMD-PET
Size code
Tmax.
1812
2220
2824
4030
5040
6054
220°C
230°C
230°C
230°C
240°C
250°C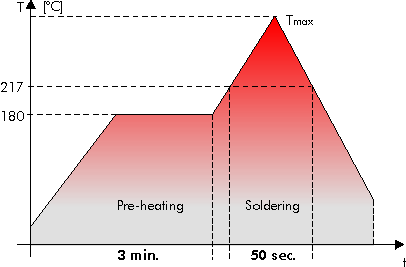 SMD-PEN
Size code
Tmax.
1812
2220
2824
250°C
250°C
250°C
SMD-PPS
Size code
Tmax.
1812
2220
2824
4030
5040
6054
250°C
250°C
250°C
250°C
250°C
250°C
Due to versatile procedures exact processing parameters for re-flow soldering processes cannot be specified. The graph depicted is to be understood as a recommendation to help establishing a suitable soldering profile fulfilling the requirements in practice at the user.
During processing a max. temperature of T=210° C inside the component should not be exceeded. Due to the differing heat absorption the length of the soldering process should be kept as short as possible for smaller size codes.
SMD Handsoldering
WIMA SMD capacitors with plastic film dielectric are generally suitable for hand-soldering with a soldering iron where, however, similar to automated soldering processes, a certain duration and temperature should not be exceeded. These parameters are dependent on the physical size of the components and the relevant heat absorption involved.
Size code
Temperature °C/°F
Time duration
1812
2220
2824
4030
5040
6054
250/482
250/482
260/500
260/500
260/500
260/500
2 sec plate 1 / 5 sec off / 2 sec plate 2
3 sec plate 1 / 5 sec off / 3 sec plate 2
3 sec plate 1 / 5 sec off / 3 sec plate 2
5 sec plate 1 / 5 sec off / 5 sec plate 2
5 sec plate 1 / 5 sec off / 5 sec plate 2
5 sec plate 1 / 5 sec off / 5 sec plate 2
The above data are to be regarded as guideline values and should serve to avoid damage to the dielectric caused by excessive heat during the soldering process. The soldering quality depends on the tool used and on the skill and experience of the person with the soldering iron in hand.
Solder Paste
To achieve reliable soldering results one of the following solder alloys have from case to case proven being workable:
Lead-free solder paste
Sn - Bi
Sn - Zn (Bi)
Sn - Ag - Cu (suitable for SMD-PET 5040/6054 and SMD-PPS)
Solder paste with lead
Sn - Pb - Ag (Sn60-Pb40-A, Sn63-Pb37-A)
Washing
WIMA SMD components with plastic encapsulation - like all other components of similar construction irrespective of the make - cannot be regarded as hermetically sealed. Due to today's common washing substances, e. g. on aqueous basis instead of the formerly used halogenated hydrocarbons, with enhanced washing efficiency it became obvious that assembled SMD capacitors may show an impermissibly high deviation of the electrical parameters after a corresponding washing process. Hence it is recommended to refrain from applying industrial washing processes for WIMA SMD capacitors in order to avoid possible damages.
Initial Operation / Calibration of the Device
Due to the stress which the components are subjected to during processing, reversible parameter changes occur in almost all electronic components. The capacitance recovery accuracy to be expected with careful processing is within a scope of
|ΔC/C| < 5%
For the initial operation of the device a minimum storage time of
t > 24 hours
is to be taken into account. With calibrated devices or when the application is largely dependent on capacitance it is advisable to prolong the storage time to
t > 10 days
In this way ageing effects of the capacitor structure can be anticipated. Parameter changes due to processing are not to be expected after this period of time.
Humidity Protection Bags
Taped WIMA SMD capacitors are shipped in humidity protection bags according to JEDEC standard (ESD/EMI-shield / water-vapour proof). Under controlled conditions the components can be stored two years and more in the originally sealed bag. Opened packing units should immediately be used up for processing. If storage is necessary the opened packing units should be stored air-tight in the original plastic bag.
Reliability
Taking account of the manufacturer's guidelines and compatible processing, the WIMA SMD stand out for the same high
quality and reliability
as the analogous through-hole WIMA series. The technology of metallized film capacitors used e.g. in WIMA SMD achieves the best values for all fields of application. The expected value is about:
λ0 < 2 fit
Furthermore the production of all WIMA components is subject to the regulations laid down by
ISO 9001:2015
as well as the guidelines for component specifications set out by IEC quality assessment system (IECQ) for electronic components.
Electrical Characteristics and Fields of Application
Basically the WIMA SMD series have the same electrical characteristics as the analogous through-hole WIMA capacitors. Apart from the advantages shown in the diagrams of the
electrical parameters in comparison with X7R ceramic and tantalum capacitors
, WIMA SMD capacitors have a number of other outstanding qualities compared to ceramic or tantalum dielectrics:
favourable pulse rise time
low ESR
low dielectric absorption
available in high voltage series
large capacitance spectrum
stand up to high mechanical stress
good long-term stability
As regards technical performance as well as quality and reliability, the WIMA SMD series offer the possibility to cover nearly all applications of conventionally through-hole film capacitors with SMD components. Furthermore, the WIMA SMD series can now be used for all the demanding capacitor applications for which, in the past, the use of through-hole components was mandatory:
measuring techniques
oscillator circuits
differentiating and integrating circuits
A/D or D/A transformers
sample and hold circuits
automotive electronics
With the WIMA SMD programme available today, the major part of all plastic film capacitors can be replaced by WIMA SMD components. The field of application ranges from standard coupling capacitors to use in switch-mode power supplies as filter or charging capacitors with high voltage and capacitance values, as well as in telecommunications e.g. the well-known telephone capacitor 1µF/250VDC.